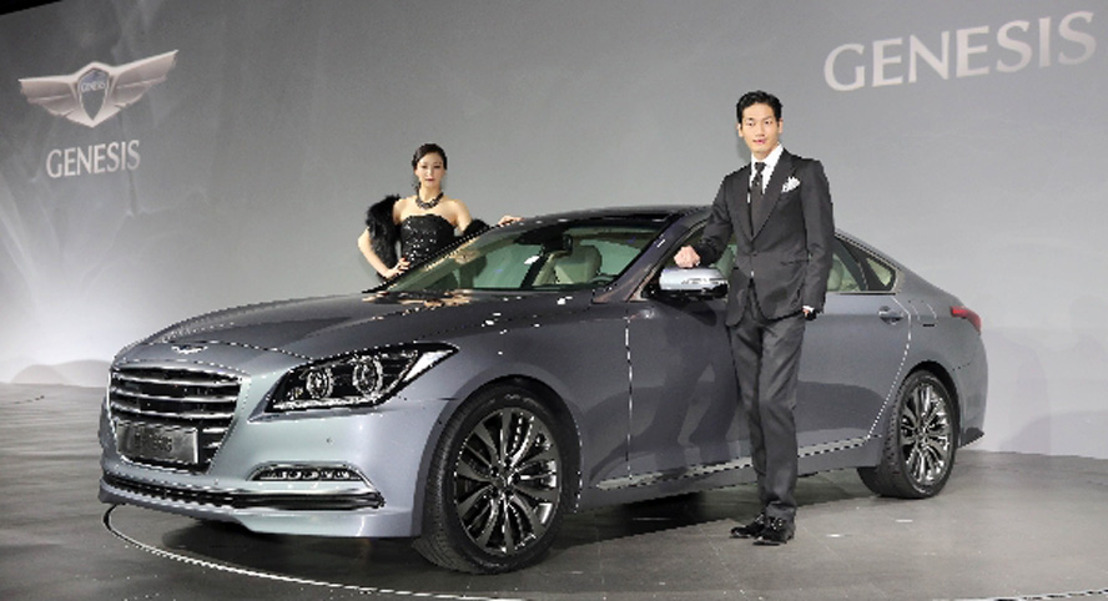 Hyundai Motor Stages World Premiere of All-New Genesis Premium Sedan in the Korean Market.
Om korter op de bal te kunnen spelen en u sneller te kunnen informeren in dit snelle multi-media tijdperk, kiezen we ervoor om sommige persberichten meteen in het engels te verspreiden.
Dinsdag 26 november 2013 — Hyundai Motor Company, South Korea's largest automaker, today unveiled for the first time the `All-New Genesis,' aimed at setting a new standard for premium sedans. Hyundai Motor revealed the much-awaited four-door sedan at a gala ceremony at the Grand Hyatt Hotel in Seoul, Korea, which was attended by over 1,000 media members and VIPs, including Korean Prime Minister Chung Hongwon.
Hyundai's first premium rear-wheel drive sedan comes back with an eye-catching, sporty design; upgraded features.
All-New Genesis embodies wide range of advanced technologies and details; expected to set a new standard for premium sedans in the industry.
The all-new Genesis received a record 3,500 orders on the first day pre-orders in Korea began last week, underscoring the excitement surrounding Hyundai Motor's multi-award winning model. Hyundai targets to sell 62,000 units globally next year, 32,000 units in Korea and 30,000 units overseas.
"The all-new Genesis is a concentration of Hyundai Motor's most advanced technologies, reborn through relentless performance tests and thorough quality management. The all-new Genesis will compete head-on with top-tier premium models in the global market including Europe, home to many such premium brands, to enhance Hyundai's brand values and gain leadership in the industry," said Mong-Koo Chung, Chairman and CEO of Hyundai Motor Company, during his welcoming remarks. "Hyundai Motor has made great strides over the past half-century through constant innovation. We will continue to satisfy customers with even better quality vehicles."
Attached PDF gives an outlook on all the details of the Genesis.